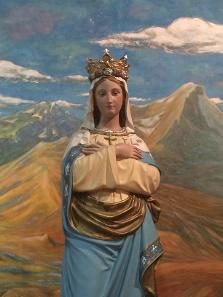 Pentecost Sunday, 28.05.2023
Today we fan the flame of God's love. Today we renew our commitment to love: of our neighbour, our enemy, the Gospel surely, if the Church is to be a witness, it must first witness to love. Nothing is more winning, compelling and irresistible than love, which in essence is putting into practice Jesus' teaching in our daily lives.
**
Pentecost Sunday In our Parish we have many nationalities and languages. Would those who have volunteered to read the Bidding prayer at the 11am Mass this Sunday in their native tongue please come forward when the Priest calls you.
**
Parish Pastoral Council. Due to Health and Safety Regulations, there will be a Fire Drill Practice on Sunday 11th June during the 9am Mass.
**
BAZAAR. This year we are planning to have a Christmas Bazaar in November as in the years before Covid. This is the main fund-raiser in the Parish. As a result of a recent Fire and Safety Inspection several areas in the Church property have been found to be in need of improvement or replacement, which will be very costly. There will be a meeting on Monday 12th June at 7.30pm in the meeting room. If you have any suggestions for stalls or can help in any way please come to the meeting.
**
Baptism Preparation. If you are thinking of having your child baptized in the near future, you need to attend a Baptism Preparation Class. Next baptism preparation will on Wednesday 14th June at 6.00pm in the church. Please contact one of the priests to register for the baptism preparation. You must be a registered member of the parish, attend Sunday Mass regularly, and be known to the priest. Please bring the following: Proof that at least one parent is a Catholic, your Baptismal, Confirmation certificate; or a letter from the parish where you grew up, that confirms you are Catholic. If you live outside our parish you must get written permission from your parish priest to have your child baptized at La Salette.
**
THE CAMPION SCHOOL OPEN EVENING for the admission of boys (in current Year 5) in September 2024 will be held at the School on Thursday, 29th June 2023 from 4.30 pm to 7.00 pm. Talks from the Headteacher will be at 5.15 pm and 6.30 pm. Admissions forms, including The Supplementary Information Form (SIF) will be available online.
**
'The Priests' Charity Concert: Brentwood Catholic Children's Society is delighted to announce that the Northern Irish classical singing trio 'The Priests' will be performing a second charity concert on Friday 30th June 2023 at the Brentwood Cathedral at 7.30pm. All tickets can be purchased directly through Eventbrite and are £30 per person plus booking fee: https://www.eventbrite.co.uk/e/528414691567 We expect this to be a sell-out event and would urge you to book early in order to avoid disappointment. Why not organise a minibus or a coach to bring a group from your parish to Brentwood Cathedral? It promises to be a great evening of entertainment. Full details are available on our website: www.bccs.org.uk/get-involved/events/
**
The Repository has a good selection of cards and gifts.
**
La Salette Youth Club. Thank you to those who have volunteered to help. We would still like more helpers. This weekend we are giving out registration forms for the La Salette parish Youth Club YEAR 5 and above. Regular meetings start in July on Fridays 6.30pm-8.30pm. If you are interested please see one of the priests after mass.
**
There are a few mass intentions booked. You can have a Mass said in Thanksgiving or for a celebration. Again, most people remember to have a Mass said for the death of a loved one and a few may think to have a Mass offered for a special intention or friend who is suffering, but rarely do we think of having a Mass offered for a celebration! Is there a better way to show our gratitude to God? Masses can be said for birthdays, anniversaries, in celebration of the reception of the sacraments, or for prayers that have been answered! It's not a long or difficult to request a Mass just see one of the priests after Sunday mass or weekday masses or come during the day to the presbytery.
**
REGISTERING AT THE PARISH: It's always important to have details of all of our parishioners. There are Parish Registration Forms in the Porch of the Church. Please complete and return to the Presbytery.
**
Offertory Collection. Banking cash continues to be a real problem for us due to the closure of many High Street branches therefore, if at all possible, please support the parish by setting up a standing order in place of giving cash. Standing Mandate forms are available in the porch. If you are a taxpayer, we would also be grateful if you would Gift Aid your offering. Some of you may wish to donate using your contactless card on the machine in the porch of the church, but it will not be Gift Aided. Also you may wish to donate with non-Gift-aid using the codes below. Thank you.
**
Please pray for the sick of the Parish, at home or in hospital: Alda Allen, Theresa Anatole, Mary Bullivant, Elaine Oberius, Cecelia Dunning, Eugene Hempenstall, David Kowalski, Harry O'Connor, Jean Shaw.
**
The Visiting of the Sick by our Priests. If you, or a member of your family, would like a visit, please let one of our priests know.
**