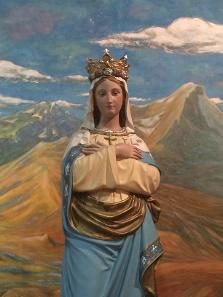 5th Sunday (year A), 05.02.2023
Advance Notice – Bishop's pastoral visits. On Sunday 19th February Bp Alan will making a pastoral visit to our parish and celebrate Confirmation Mass. 11.00am mass on that Sunday will be moved to 10.30am, please make a note of it.
**
The SECOND collection for UKRAINE LAST weekend raised so far the sum of £2207.83, we will publish a final figure next weekend. Thank you for your kind generosity.
**
Baptism Preparation. If you are thinking of having your child baptized in the near future, you need to attend a Baptism Preparation Class. Next baptism preparation will be on Monday 13th February at 6.30pm in the church. Please contact one of the priests to register for the baptism preparation. You must be a registered member of the parish, attend Sunday Mass regularly, and be known to the priest. Please bring the following: Proof that at least one parent is a Catholic, your Baptismal, Confirmation certificate; or a letter from the parish where you grew up, that confirms you are Catholic. If you live outside our parish you must get written permission from your parish priest to have your child baptized at La Salette.
**
MINI-SALE. We are planning a Mini-Sale on Sunday 5th March after the masses. If you have any unwanted Christmas gifts, bottles, boxes of chocolates, etc. we would be very grateful for your donation. Please hand them in at the Presbytery or porch of the church. There will also be a raffle.
**
We are still looking for volunteers to help run a Youth Club for our Parish.
**
Young-at-Heart (ie. over 50). This group meets in the hall on Mondays from 1.00pm -3.30pm. We have refreshments, chat, and various activities, games, quizzes, films, usually finishing with bingo. Currently members pay £2.00 per week. If you are still young at heart but over 50 you will be made welcome. Come along and see if it's your "cup of tea"! First week free!!!
**
REGISTERING AT THE PARISH: It's always important to have details of all of our parishioners. There are Parish Registration Forms in the Porch of the Church. Please complete and return to the Presbytery.
**
PARISH REPOSITORY: There is a lot of new stock in the repository for all occasions. Rosaries, medals, holy picture cards, candles, baptismal gifts, statues, medals and many more items. If you want anything special please speak to Margaret; it usually takes about a week to arrive.
**
DIOCESAN PILGRIMAGE TO LOURDES 2023 Join Bishop Alan in Lourdes from Monday 24th to Saturday 29th July. We can support those with medical needs. For further information, please 'phone Tangey Tours on 01732 886 666 or book online: Brentwood Lourdes - Lourdes - Tangney Tours (tangneytours.com)
**
All-Inclusive Pilgrimage to the Holy Land, 5th – 12th September 2023, with All Saints Travel Ltd and Fr John Moloney .This pilgrimage will include return flight from the UK to Tel Aviv full board, an executive touring coach, a professional local Christian guide, all entrance fees, all tips and gratuities. You will stay at a 5-star hotel in Jerusalem for 4 nights and in a 5-star hotel set on the Sea of Galilee with stunning views and private beach access for 3 nights cost from £2,967 per person. Full details are online https://www.allsaintstravel.co.uk/HL0756
**
Mass Intentions. There are very few Mass intentions for Weekday and Sunday masses in coming months, we therefore bring this to the attention of ALL parishioners. Offering a mass for your intention is the highest form of prayer. Most people remember to have a Mass said for the death of a loved one and a few may think to have a Mass offered for a special intention or friend who is suffering, but rarely do we think of having a Mass offered for a celebration! Is there a better way to show our gratitude to God? Masses can be said for birthdays, anniversaries, in celebration of the reception of the sacraments, or for prayers that have been answered! If you would like to book a mass, please see on the priests after or before mass or pop in to the presbytery during the week. Thank you.
**
Offertory Collection. Banking cash continues to be a real problem for us due to the closure of many High Street branches therefore, if at all possible, please support the parish by setting up a standing order in place of giving cash. Standing Mandate forms are available in the porch. If you are a taxpayer, we would also be grateful if you would Gift Aid your offering. Some of you may wish to donate using your contactless card on the machine in the porch of the church, but it will not be Gift Aided. Also you may wish to donate with non-Gift-aid using the codes below. Thank you.
**
Please pray for the sick of the Parish, at home or in hospital: Alda Allen, Theresa Anatole, Mary Bullivant, Elaine Oberius, Cecelia Dunning, Eugene Hempenstall, David Kowalski, Harry O'Connor, Jean Shaw.
**
The Visiting of the Sick by our Priests. If you, or a member of your family, would like a visit, please let one of our priests know.
**
Confirmation Youths: Rehearsal: Friday, 17th February at 6.30pm / Confirmation Mass, Sunday at 10.30am.
**