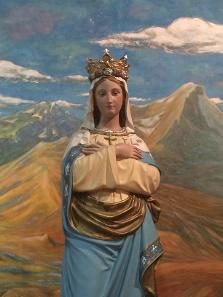 26th Sunday (Year A), 01.10.2023
Please pray for the repose of the soul of Bridget Greenan and Mary Bradly who died recently. May they rest in peace.
**
Eucharist Ministers – Please pick up your new rota.
**
Youth Club Helpers Please return completed DBS forms as soon as possible.
**
BAZAAR -11th November 2023. Now less than 6 weeks away! Wanted – a Father (or Mother!) Christmas. Costume is provided. Please volunteer let know one of the priests. Thank you. This is the main fund-raiser in the Parish. If you can help in any way or have any suggestions for stalls please speak to one of the Bazaar Committee in the porch or come to the meeting. We are asking for donations for the stalls. Please bring your gifts to the Presbytery, or to the porch of the church at the weekends. More raffle tickets are available in the porch, £5 per book. Please try to sell at least one book to friends, neighbours and colleagues, and return all tickets as soon as possible. Thank you in advance for your generosity. The Lucky Square will be on sale next weekend 7/8 October at all Masses. £1 per square, cash only. £50 for winner, to be drawn at the Bazaar.
**
IMPORTANT INFORMATION - SECONDARY CATHOLIC SCHOOLS APPLICATIONS. If you are going to apply for a secondary Catholic school for your child you must be registered as a parishioner. Please note that: a) Fr Mariusz will know those families who have been practising their faith by coming to Sunday Mass. These families will receive a Certificate of Catholic Practice. b) If you have not been practising your faith, please do not come for a Certificate of Catholic Practice as father will not be able to provide you with this document. Instead, apply directly to the Catholic school of choice. c) If you are applying to a non-Catholic school that requires evidence of religious practice and you have been practising your faith, please come to see father but if you are applying to a non-Catholic school that requires evidence of religious practice and you have not been practising your faith, please apply directly to the non-Catholic school of your choice. Father will NOT be issuing any supporting letters to non-Catholic schools to parents who are not known to him and don't practise their faith. Equally he will not supply additional references or documentation to parents who may go to appeal for a place at a non-Catholic school. Parents are asked to come with their child in the following dates: Tuesday 3rd or Wednesday 4th October between 6.00pm-7.00pm or Saturday after 6.00pm mass when Fr Mariusz will be issuing Certificates of Catholic Practice. Important, please bring with you the child's Baptism certificate and First Holy Communion certificate. Please remember to save your left-over foreign currency for Mary's Meals.
**
Baptism Preparation. If you are thinking of having your child baptized in the near future, you need to attend a Baptism Preparation Class. Next baptism preparation will be On Monday 23rd October at 6.30pm in the church. Please contact one of the priests to register for the baptism preparation. You must be a registered member of the parish, attend Sunday Mass regularly, and be known to the priest. Please bring the following: Proof that at least one parent is a Catholic, your Baptismal, Confirmation certificate; or a letter from the parish where you grew up, that confirms you are Catholic. If you live outside our parish you must get written permission from your parish priest to have your child baptized at La Salette.
**
RITE OF CHRISTIAN INITIATION OF ADULTS. Is there anyone who may be interested in the RCIA Programme, possibly with the view of being received into full-communion with the Roman Catholic Church? It is a programme of many aspects of Catholicism, including Scripture, Sacramental Life, Catholic Practice & traditions. Please see Fr Mariusz for more information.
**
REGISTERING AT THE PARISH: It's always important to have details of all of our parishioners. There are Parish Registration Forms in the Porch of the Church. Please complete and return to the Presbytery.
**
Offertory Collection. Banking cash continues to be a real problem for us due to the closure of many High Street branches therefore, if at all possible, please support the parish by setting up a standing order in place of giving cash. Standing Mandate forms are available in the porch. If you are a taxpayer, we would also be grateful if you would Gift Aid your offering. Some of you may wish to donate using your contactless card on the machine in the porch of the church, but it will not be Gift Aided. Also you may wish to donate with non-Gift-aid using the codes below. Thank you.
**
Please pray for the Sick members of our Parish, at home or in hospital: Alda Allen, Theresa Anatole, Mary Bullivant, Cecelia Dunning, David Kowalski, Sheila Miller, Harry O'Connor, Jean Shaw, Lorraine Stringer, May they feel the presence of the Lord with them at all times.
**
The Visiting of the Sick by our Priests. If you, or a member of your family, would like a visit, please let one of our priests know.
**