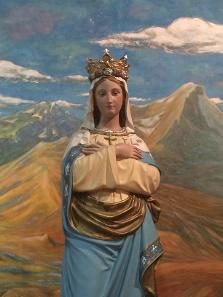 Christ the King Sunday (Year A), 26.11.2023
PARISH CHRISTMAS BAZAAR. There is a list of prize-winners in the porch. The total raised was £4244.09. Well done everyone! There are still some prizes to be claimed. A Post-Bazaar raffle is being planned for the weekend 9/10 December.
**
Bazaar Evaluation. This Monday 27th November at 7.30pm in the meeting room. Please come and give your feedback.
**
Youth Club Helpers Please return completed DBS forms as soon as possible.
**
Please remember to save your left-over foreign currency for Mary's Meals. Also used Postage Stamps-English OR Foreign, for St Francis Hospice. PLEASE leave about a centimetre of envelope around them.
**
WORLD YOUTH SUNDAY – 26th November 2023. World Youth Day is a unique opportunity to celebrate the role and significance of young people in the Catholic Church. There will be a second collection for the Brentwood Catholic Youth Service, and any money raised on will go towards supporting those in need of financial support to go on pilgrimages and to events, as well as allowing the BCYS to continue running these events, such as the monthly Youth Masses, provide support and training to those working with young people and so much more. You will also see posters around the church with details on how you can get involved or donate online, and please pray for all our young people and those who work with them. Please do pray for the work of the Brentwood Catholic Youth Service and Walsingham House, for all young people and those who work with them, and to donate online, please visit www.bcys.net/donate
**
Repository. We now have in stock Children's Advent Calendars, and also Christmas Mass Bouquet Cards – ideal for booking a gift Mass as a present.
**
ALL EUCHARIST MINISTERS. There are two Parishioners who would like communion on Sundays. If you are able to visit on regular basis please let the parish office know.
**
The Senior Citizens Christmas Dinner will be held at The Campion School on Sunday 17th December at 1pm. If you have not been in recent years and would like to attend please let the parish office know.
**
LECTORS: Your new rota for December to February is in the Sacristy.
**
Calling all Mission Boxes. Would all those with Mission Boxes please give them to Josie O'Brien or bring them to the Sacristy to be counted. Donations will also be gratefully received. Thank you in advance.
**
Altar Servers. Please collect your new rota from the sacristy. ALSO choose at which of the Christmas Masses you are able to serve and write your name on the list .
**
In the Brentwood Directory (on sale in the Porch – £3.00) there is an article giving the history of the La Salette Community in England, including here at La Salette, Rainham, and a photograph of the La Salette Priests serving in the 5 parishes at the present time.
**
Office Clerk- Cathedral House. To provide effective and efficient support in relation to administration requirements at Cathedral House. Hours: 21 hours per week 09.00 until 17.00 (Mondays, Tuesdays, and Thursdays). Start Date: December /January 2024 Salary- £13 per hour. Apply by sending a CV and covering letter (no longer than A4) hr@brcdt.org. Closing date for applications is 5th December 2023
**
REGISTERING AT THE PARISH: It's always important to have details of all of our parishioners. There are Parish Registration Forms in the Porch of the Church. Please complete and return to the Presbytery.
**
Offertory Collection. Banking cash continues to be a real problem for us due to the closure of many High Street branches therefore, if at all possible, please support the parish by setting up a standing order in place of giving cash. Standing Mandate forms are available in the porch. If you are a taxpayer, we would also be grateful if you would Gift Aid your offering. Some of you may wish to donate using your contactless card on the machine in the porch of the church, but it will not be Gift Aided. Also you may wish to donate with non-Gift-aid using the codes below. Thank you.
**
Please pray for the Sick members of our Parish, at home or in hospital: Alda Allen, Theresa Anatole, Mary Bullivant, Cecelia Dunning, David Kowalski, Sheila Miller, Harry O'Connor, Mary Ponting, Jean Shaw, Lorraine Stringer. May they feel the presence of the Lord with them at all times.
**
The Visiting of the Sick by our Priests. If you, or a member of your family, would like a visit, please let one of our priests know.
**